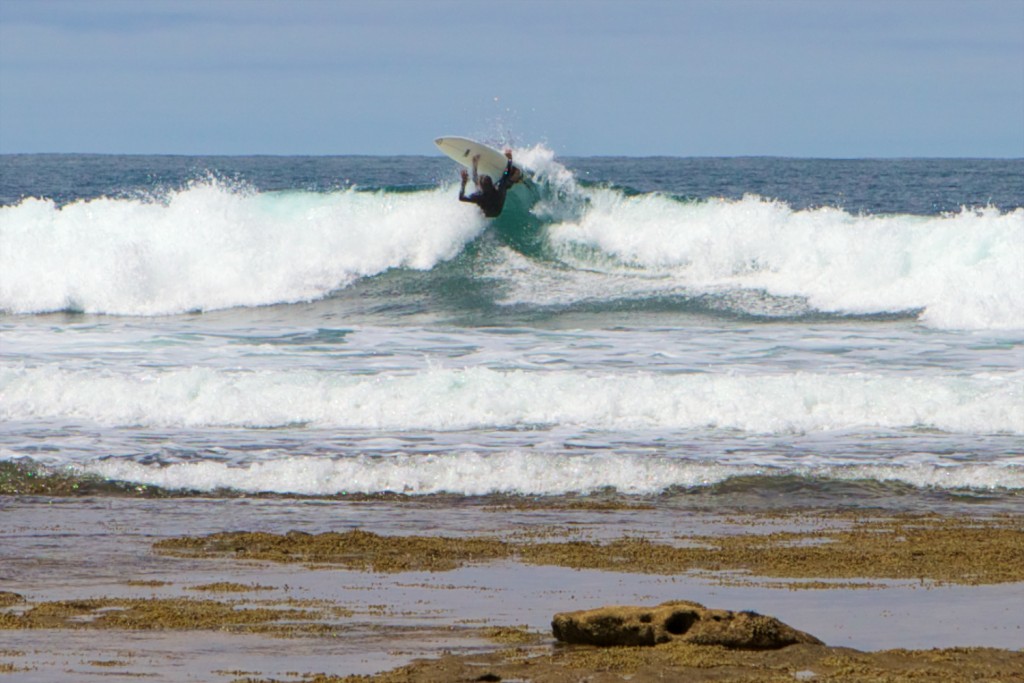 After a couple of fortunate events which landed us a free powered pitch in one of the best caravan sites in Torquay (Mainly getting a buy one get one free deal in the reception of the caravan site and finding a $20 note on the floor) We woke refreshed and recharged, our laptops and camera batteries as-well as ourselves and full of excitement to start our first full day on the Great Ocean Road.
We kicked things off with a magical delve into surfing's past with the surf museum in Torquay itself. The museum was excellent and packed with memorabilia and history getting us geared up for a quick stomp around all the surf outlet shops which were treasure troves of discounted clothing and boards.
Lunch was devoured at the top of the cliffs above the world famous surf beach, Bells Beach, 4km outside of Torquay. There were a few locals down in the water which was too fierce for me to have a dip with the swells coming up high despite it being a calm day. Bells Beach will shortly be hosting the Rip Curl World Championships next month and it seemed queer that such a small beach would attract surfers from all around the globe.
There were a few people up on the cliffs struggling to get shots of the action so I climbed all the way down on to the rocks and coral where the surfers enter the water and went the extra mile to get as close to the surfers as possible. I may have got damp feet but I think the shots show its always worth getting as close as you possibly can. As for settings I played around and common sense dictated that keeping the ISO down as low as possible so I could crop the images later without too much noise. Shutter speed was always going to have to be kept high so I kept it around 2000 to 2500 to catch the fast moving water and surfers. As a result my aperture suffered and so I started shooting at 2.8 but wiped these pictures almost immediately because the surfers weren't coming out sharp enough due to the depth of field being too low. After switching to an aperture of about 5.6-6.3 the surfers were coming out sharper and it was all down to the talent in the water.
In an ideal world I would have had a good 100-300 lens in my kit bag but as we are on the road travelling light those pieces of glass were all left behind. If I was staying for the competition though you can bet your bottom dollar on my driving all the way to Melbourne to hire a good lens for a couple of days and really nail some awesome shots!
Related articles