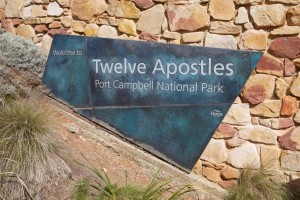 One of the highlights without a doubt of our drive along the Great Ocean Road has been our visit to the Twelve Apostles or should I say visits!  Having decided to stop the night in a caravan park with showers (much excitement!) in Princetown only 4km from the Twelve Apostles despite knowing we had the whole of the next day to enjoy the Twelve Apostles National Park, we couldn't resist a sneaky premature peak! Having secured a pitch mid afternoon Emily and I headed down the road and pulled in at the Twelve Apostles car park and walked out to the cliffs and boardwalks that offer the best views of these magnificent stacks of limestone.
With the afternoon sun the Apostles were lit from behind, silhouetted and standing tall. The photographs that came out best were shot towards the east as the rock was detailed. I was eager to return in the morning when I could capture these awe-inspiring formations.
Before the morning there was evening though and we were treated to a beautiful sunset. Although we were late (due to the shower block and a new hair cut for me) we were in time to catch the Apostles as the sun set. I could have stayed there all night with the prospect of a starlit night but with the sun out of sight, the air grew cooler rapidly and my jumper wasn't sufficient.
The next morning brimming with excitement I almost charged down the boardwalks to see the Apostles in what I knew would be the best light and they didn't disappoint.  Seeing the Apostles at three markedly different times of day was an experience I shall never forget. I do apologise for the cliché though!
Related articles