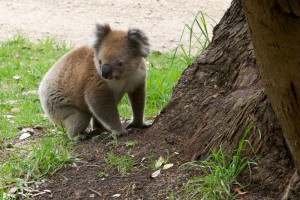 Travelling around in our blue camper van has been a truly amazing experience. The other night we stayed at one of Victoria's free campsites. Aires River East Campground is a fantastic place to stop overnight with good facilities. Toilets (with loo paper!) Fire pits and great surroundings that we have found common with these overnight stopovers. While we were sitting enjoying the arrival of the evening, reading our books next to our camper, we were treated to the arrival of Carlos the koala! He climbed up into the tree we were parked next to and proceeded to munch away! We were delighted as (the quickly dubbed) Carlos was the first wild koala we had seen and it was especially rare to have him to ourselves without a large audience.
Carlos spent the night with us sleeping in the tree and in the morning he woke when we did and proceeded to dismount the tree without an ounce of grace, landing with an undignified thump on the floor having fallen!
Related articles

Funny animals at the Zoo – Images by Thomas Jupe
These photos, shot at a wild animal sanctuary & conservation park were a bonus for my catalogue.
It was a day trip planned for my girlfriend earlier last year but I couldn't resist taking the camera to capture some of the animals characteristics and personalities.
The park is South Lakes animal park in Cumbria it houses many animals from many parts of the world!
The park was an idea created and developed solely by David Gill. At the time of the construction back in 1993/4, he was an animal nutritionist with no connections to zoos, but a desire to see education and conservation brought into the public awareness by the reality of a close, wild experience, an experience for all to react to assist worldwide conservation issues. The then 32-year-old father of two, built the park with his own hands and to this day, still designs and builds all the facilities around the zoo now with the help and assistance of the large staff.
I was touched by the conservation work done by the park and would recommend visiting the park
http://www.wildanimalpark.co.uk/
Wild An
To see my photographs please visit
http://www.photoshelter.com/c/thomasjupe/gallery/Funny-animals-at-the-Zoo/G0000irT9dUnv5vI/
I have uploaded my photos for this album in colour and black and white because I think they look awesome in black and white!